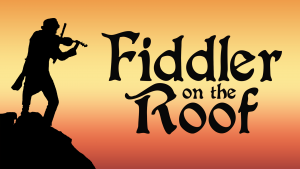 A Fiddler on the Roof. Sounds crazy, no? The opening lines of what I think is the best musical ever. Forget the film, with its overlay of Hollywood schmaltz, the musical itself has everything a musical should, which is why it's so popular with casts and audiences alike. Despite the strength of its central characters, Tevye the story-telling milkman, Golde his wife, his three unmarried daughters and their spouses to be, it's essentially an ensemble piece, the chorus is all. They sing great numbers, dance great dances, they present the village of unforgettable characters. Singers, dancers, actors, young, old, we need as many as we can fit on the Chequer Mead stage (and that's a lot!).
It's funny, catchy, tragic and uplifting. A chocolate with a serious centre. Come and play…
Get the dates in your diary now! 21st-24th November 2018. Want to be involved? Watch this space!