The players most commonly perform at the following venues:
The Copthorne Village Hall
Copthorne Bank, Copthorne, West Sussex. RH10 3RE.
http://www.copthornevillagehall.co.uk/
Parking is available down the left-hand side and rear of the venue and on the surrounding streets.  We ask our patrons to please keep local residents in mind when parking.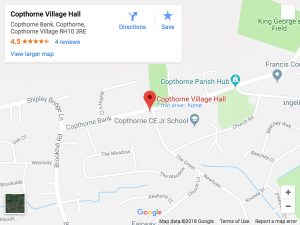 The Chequer Mead Theatre
De La Warr Rd, East Grinstead, West Sussex RH19 3BS
http://www.chequermead.org.uk/
Parking is available in the two large car parks opposite the theatre. Pay and Display is operational between 0800-1800 Monday – Saturday excluding bank holidays.
The following charges apply (correct March 2018 – Long Stay Car Park):
0-1 hrs……80p
1-2hrs…….£1.20
2-3hrs…….£2.00
3-4hrs…….£4.00
4+ hrs…….£6.00