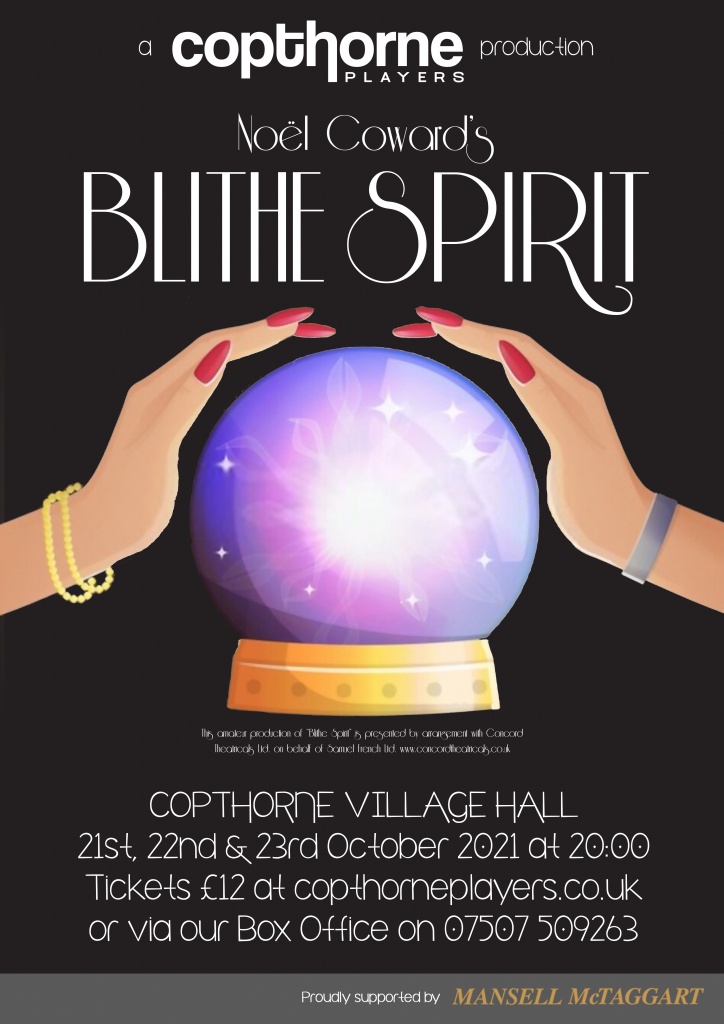 Copthorne Players are pleased to announce that their first post-COVID production will be Noel Coward's play 'Blithe Spirit' at the Copthorne Village Hall from October 21st-23rd. Directed by Alison Shapley.
Tickets are on sale NOW – click here to secure yours while you can!
Cast
Charles Condomine – Anthony Worssam
Ruth Condomine – Louisa Worssam
Elvira Condomine – Stephanie Francis
Doctor Bradman – Jeremy Tafler
Mrs Bradman – Nicki Barnett
Madame Arcati – Gemma Hodsdon
Edith – Amelia Worssam
Blithe Spirit – an introduction
The comedy play, Blithe Spirit, was written by Noel Coward in just a week, whilst holidaying with his friend, the actress Joyce Carey, at Portmeirion in Wales. It was first performed at the Manchester Opera House in June 1941 before moving to the West End in July 1941 where it played at the Piccadilly Theatre, the St James Theatre and the Duchess Theatre. Coward knew that in wartime Britain, with death a constant presence, there would be some objection to a comedy about ghosts, however, despite the audience having to "walk across planks laid over the rubble caused by a recent air raid to see a light comedy about death", the play was a great success and ran for nearly 2,000 performances. This record was only surpassed in 1957 by The Mousetrap. There were over 650 performances of Blithe Spirit on Broadway and a musical version, High Spirits, in 1964 also on Broadway.
There have been many revivals, tours and adaptations of the play over the years, from a wartime ENSA tour of the Far East with John Gielgud as Charles, along with the original David Lean 1945 film adaptation starring Rex Harrison and Margaret Rutherford, to the recently released reimagined film of the story staring Dan Stevens, Lesley Mann, Isla Fisher and Dame Judi Dench. Stage productions, television and radio productions have featured such actors as Noel Coward, Claudette Colbert, Lauren Bacall, Hattie Jacques, Joanna Lumley, Dirk Bogarde, Paul Eddington, Anna Massey, Penelope Keith, Julia Mckenzie, Roger Allam, Peggy Mount, Ruthie Henshall, Edward Woodward, Denis Quilley, Janie Dee, Alison Steadman, Fenella Fielding, Angela Lansbury, Jennifer Saunders, Aden Gillett and Suranne Jones. Excerpts were even broadcast on Radio 4 as part of an episode of The Archers. It is frequently performed by amateur theatrical societies, requiring a cast of seven and one set throughout.
The play calls for the suspension of disbelief, as from the opening scene, when the
Condomines and Dr Bradman are so sure that ghosts cannot appear, that almost certainly something will happen to prove them wrong. Madame Arcati is the link between "here" and "the other side" and, despite her absolute belief in clairvoyance and her eccentric dress, is much more down to earth than the sophisticated but superficial Condomines. Her belief in the spirit world is central to the play's humour, which also explores themes of deception, love, loyalty and the complex legacy of past relationships.