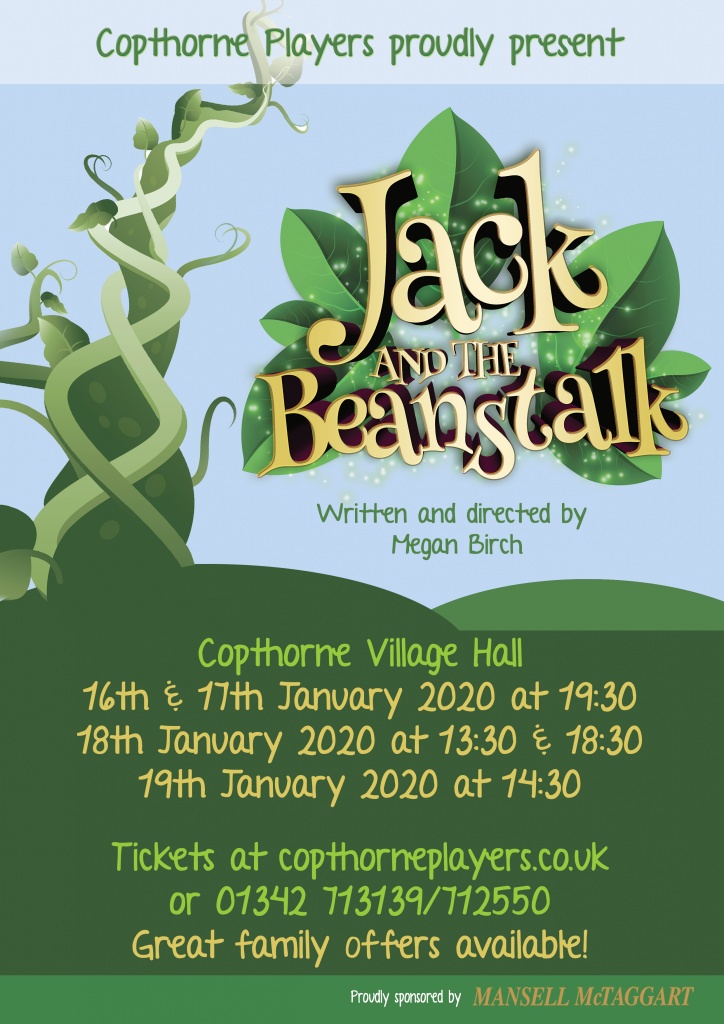 The lights are going up, the shops have put on their seasonal playlists, and the Copthorne Players are back with their fantastic new pantomime, Jack & the Beanstalk. Featuring an all-new script from writer and director Megan Birch, with choreography from Charlotte Bailey and musical direction from Shaz Dudhia, this production promises to be fun for all the family.
We're well into rehearsals now and the cast and crew are certainly in the panto spirit! (Oh yes they are!) Panto regular Dr Jon Birch is back as Dame Trot, along with other old friends from the Copthorne Players including Charlotte Bailey as Jack, Alysha Finch-Parsons as his friend Jill, Marcus Kirby as the evil Fleshcreep, and Ellie Skipper as the ethereal Fairy McLairy. They're joined by newer faces including Katherine Whinn as Billie the farmhand and Bradley Barlow as harried local landowner Lord Sprat, and we're very excited to have them on board.
Book your tickets early to make sure you don't miss out on this fabulous show, jam-packed with songs from your favourite bands and musicals, and bursting with jokes. Make sure you take advantage of our discounts for family tickets, and we'll look forward to seeing you at the Copthorne Village Hall from 16th-19th January.
Tickets are available on the link above or by clicking here.