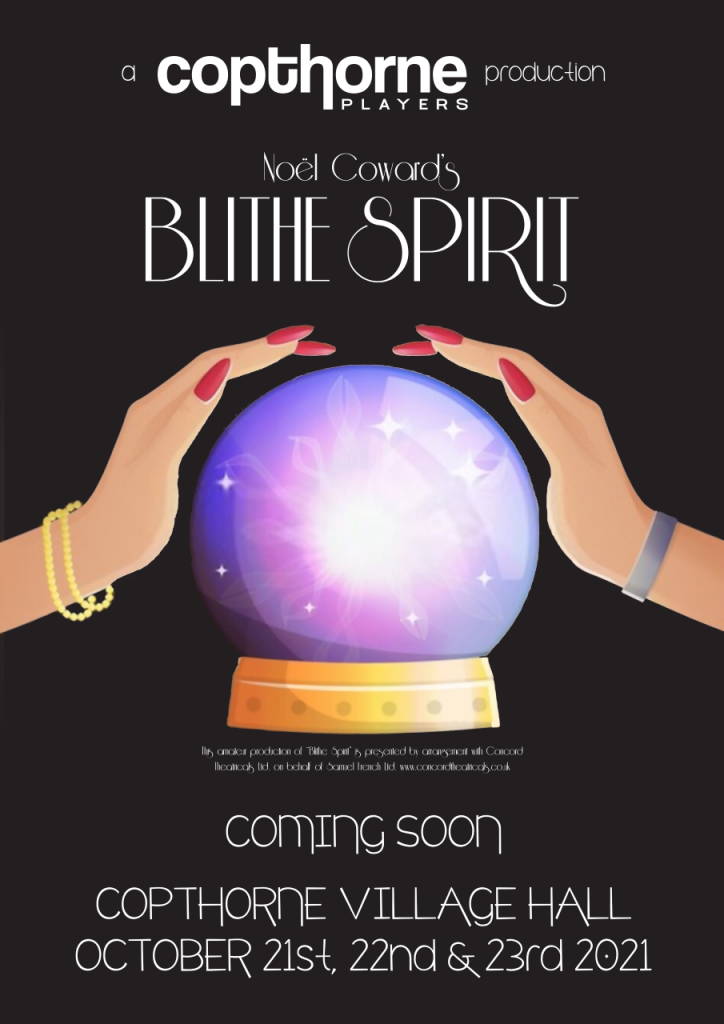 Copthorne Players are pleased to announce that their first production of 2021 will be Noel Coward's play 'Blithe Spirit' at the Copthorne Village Hall from October 21st-23rd. Directed by Alison Shapley.
Auditions: 7th June 2021 8.15pm at the Delmar Morgan Centre
Audition pieces and a character breakdown are available via this link
Call backs: 14th June 2021 8pm at the Copthorne Village Hall
Rehearsals: from July 2021 onwards. Mondays and Wednesdays 7.45pm – 10pm at the Copthorne Village Hall
For further information, or to apply for an audition please use the 'Contact Us' form or email hello@copthorneplayers.co.uk
Blithe Spirit – an introduction
The comedy play, Blithe Spirit, was written by Noel Coward in just a week, whilst holidaying with his friend, the actress Joyce Carey, at Portmeirion in Wales. It was first performed at the Manchester Opera House in June 1941 before moving to the West End in July 1941 where it played at the Piccadilly Theatre, the St James Theatre and the Duchess Theatre. Coward knew that in wartime Britain, with death a constant presence, there would be some objection to a comedy about ghosts, however, despite the audience having to "walk across planks laid over the rubble caused by a recent air raid to see a light comedy about death", the play was a great success and ran for nearly 2,000 performances. This record was only surpassed in 1957 by The Mousetrap. There were over 650 performances of Blithe Spirit on Broadway and a musical version, High Spirits, in 1964 also on Broadway.
There have been many revivals, tours and adaptations of the play over the years, from a wartime ENSA tour of the Far East with John Gielgud as Charles, along with the original David Lean 1945 film adaptation starring Rex Harrison and Margaret Rutherford, to the recently released reimagined film of the story staring Dan Stevens, Lesley Mann, Isla Fisher and Dame Judi Dench. Stage productions, television and radio productions have featured such actors as Noel Coward, Claudette Colbert, Lauren Bacall, Hattie Jacques, Joanna Lumley, Dirk Bogarde, Paul Eddington, Anna Massey, Penelope Keith, Julia Mckenzie, Roger Allam, Peggy Mount, Ruthie Henshall, Edward Woodward, Denis Quilley, Janie Dee, Alison Steadman, Fenella Fielding, Angela Lansbury, Jennifer Saunders, Aden Gillett and Suranne Jones. Excerpts were even broadcast on Radio 4 as part of an episode of The Archers. It is frequently performed by amateur theatrical societies, requiring a cast of seven and one set throughout.
The play calls for the suspension of disbelief, as from the opening scene, when the
Condomines and Dr Bradman are so sure that ghosts cannot appear, that almost certainly something will happen to prove them wrong. Madame Arcati is the link between "here" and "the other side" and, despite her absolute belief in clairvoyance and her eccentric dress, is much more down to earth than the sophisticated but superficial Condomines. Her belief in the spirit world is central to the play's humour, which also explores themes of deception, love, loyalty and the complex legacy of past relationships.
Synopsis
Charles Condomine, a successful novelist, wishes to learn about the occult for a supernatural thriller novel he is writing, and has arranged for the noted but eccentric clairvoyant, Madame Arcati, to hold a séance at his house. Before the evening's entertainment begins, Charles' second wife, Ruth, tries to train their new maid, Edith, to prevent her doing everything "at the double" and the conversation turns to a discussion about Charles' first wife, Elvira, who died of a heart attack seven years previously while laughing wildly at a programme on the radio. Although Ruth says that she thinks the two wives would have liked each other had they met, she seems a little defensive on learning how attractive Elvira was. She tells Charles that he has always been dominated by women and is still under Elvira's spell, which, of course, he denies. Their first of their guests, Doctor and Mrs Bradman, arrive and they discuss the mysterious Madame Arcati, her choice of profession, her writing career, which includes children's books and biographies of minor royalty, and what the evening may bring. The much anticipated Madame Arcati arrives by bicycle and the group go in to dinner.
Later that evening the séance begins, with Madame Arcati using the song "Always" as a device to communicate with her control or spirit guide, a little girl named Daphne. Although very little appears to happen during the séance, she inadvertently summons the ghost of Charles's first wife, Elvira, who has been dead for seven years. The medium leaves, unaware of what she has done. Only Charles and the audience can see or hear Elvira, and Ruth, not believing in Elvira's existence, heads off to bed, leaving Charles to chat with the ghost of his first wife.
The next morning, Charles and Ruth have a very pointed conversation about his behaviour the previous evening and his belief that he had talked to the Elvira's ghost. They try to come up with a rational explanation for Charles' "hallucination" when Elvira materialises and yet again Charles' odd behaviour makes Ruth angry and it is not until Charles gets Elvira to move a vase of flowers, apparently floating through the air, that Ruth concedes that it could be possible. Even then she is convinced that it is a trick designed to frighten her.
Elvira is decadent, manipulative and prone to sulking, in contrast to the more strait-laced Ruth, and makes continued, and increasingly desperate, efforts to disrupt Charles's current marriage. Ruth becomes convinced that Elvira is trying to kill Charles in order to reunite them in the spirit world, however Charles believes that Ruth is being paranoid. However Ruth is proved right when she drives off in Charles' sabotaged car, is killed and her angry ghost comes back to torment Elvira.
Although Charles cannot at first see Ruth, he can see that Elvira is being chased and tormented, and his house is in uproar. He calls Madame Arcati back to exorcise both of the spirits, but instead of banishing them she unintentionally materialises Ruth. With both of his dead wives now fully visible to him, and with neither of them in the best of tempers, Charles and Madame Arcati go through a number of séances and spells to try to exorcise them, all of which are unsuccessful.
It is not until Madame Arcati realises that the housemaid, Edith, is psychic and has unwittingly been the conduit through which Elvira was summoned that she succeeds in dematerialising both ghosts. Charles is left seemingly in peace, but Madame Arcati, hinting that the ghosts may still be around but unseen, warns him that he should go far away as soon as possible. Charles says his final goodbyes to his wives, meaning to enjoy life without them, and the unseen ghosts throw things and destroy the room as he makes his exit. 
Characters
Charles Condomine
Major role, appears in every scene, has a lot of lines – Aged 40s – 50s, well-spoken.
Charles is a novelist in his forties. He is bright, sophisticated, articulate, and debonair but somewhat at the mercy of his wives, past and present. His interest in spiritualism is only as a subject for a novel, asking Madame Arcati to dinner to hold a séance. He is skeptical but becomes a believer when the ghost of his first wife appears and stays. From then on, Charles is constantly being pulled between the women battling for his affections: Ruth, his living wife, and Elvira, his dead one in a spectral variation of the eternal triangle. He is both a childish charmer who expects women to organise his life and indulge his demands, but has been dominated by them over the years. He is filled with scarcely merited self-regard and essentially incapable of love, yearning to be free of both wives. He wants to be seen as a gentleman and a creative author, however it is revealed that he did not treat Elvira particularly well while they were married and he uses people around him to get ideas for his stories and characters, rather than inventing his own. He speaks like a poet, with every word carefully chosen. The only time that he steps away from his role as a completely dominated man is at the end of the play when he leaves the house.
Ruth Condomine
Major role, appears in every scene, has a lot of lines – Aged mid-30s to early-40s, well-spoken.
Ruth is Charles's second wife and like her husband is witty and sophisticated. She is a bit stuffy and a little predictable, however she can be steely and ferocious when challenged. She can be rather domineering as she has a controlling nature, as evidenced by her micro-management of Edith and the rest of the household. She is the epitome of appropriate behaviour as befits one of her social status. She is convinced that Charles has lost his mind when Elvira appears, because at first she can neither see nor hear Elvira. Throughout much of the play, Ruth acts as a concerned wife, trying to restore Charles to normalcy, however she is jealous of Charles's continued affection for Elvira, which only intensifies when Elvira's spirit returns. After dying in a booby-trapped car, she comes back to haunt Elvira and Charles.
Elvira
Important role, appearing after the séance in Act 1, Scene 2 – Aged mid- to late-twenties, needs to have an ethereal quality and move well.
Elvira is the ghost of Charles's first wife who died seven years before the events of the play, is grey from head to toe, and only Charles can see or hear her. In life, Elvira was spirited, outgoing, attention seeking, wild, and carefree, being unfaithful to Charles, lying about her whereabouts to spend time with a lover. In death she socialises with Genghis Khan and Joan of Arc and when she returns from "the other side" she shows herself to be deceitful, manipulative and demanding. She does love Charles, if somewhat casually, and is jealous of Ruth, believing that Charles still prefers her (Elvira) to his more straight-laced second wife who has ruined him. Her attempts to monopolize the attention and conversation of Charles after she reappears form the central tension of the play. She intends to kill Charles so they can be reunited on the other side.
Madame Arcati
Important role, strong character, needs to be enthusiastic and able to go into trances and lead the séance – Aged somewhere between middle-aged and "elderly but spry".
Madame Arcati is the local spiritualist and medium who moved from London a year or so ago, where the supernatural was her profession, having been a psychic since she was a little girl. She is absolutely convinced of her ability to converse with those who have passed on and takes pride in being able to do so, via her control Daphne, a young girl. She travels everywhere by bicycle, is very particular in her dietary habits and wears slightly outlandish clothes. She is like the crazy aunt that seems to be present in every family, humoured and tolerated, but not really respected or welcome. You never know what she is going to say next, or what odd or offbeat concept or idea will pop into her head and explode from her mouth. Madame Arcati She is a sublime compound of dotty eccentricity, fierce pride, and businesslike enthusiasm, falling back on schoolgirl cliches (jolly hockeysticks!) to motivate those around her. Her belief in her ability to converse with the supernatural is absolute and she takes offence when she feels she is not being taken seriously.
Edith
Minor role, the Condomine's maid – Age – flexible, while written for someone in their twenties, could be older.
Edith plays a small part in the bulk of the play but turns out to be unintentionally responsible for Elvira's spirit being brought back to the house. She has frantic tendencies and is frequently encouraged to slow down by Charles and Ruth. As she is fairly new to the household, she feels under some pressure to learn her responsibilities, but is suitably subservient and unfailingly polite. In the final trance scene she needs to sing the song "Always" as a young girl. Potential for comedy.
Dr. Bradman
Minor role, a doctor and friend of the Condomines – Aged mid-30s to 50s, well spoken..
Dr Bradman and his wife are invited to the séance, but he is a completely sceptic with regard to the supernatural as he is a man of science. He inhabits a similar social circle to the Condomines. He deals with facts rather than the supernatural
Mrs. Bradman
Minor role, wife of Dr Bradman – Aged 30s to 40s, well spoken.
Mrs Bradman is the most interested in the Madame Arcati's powers and is very willing to believe in them from the start. She is also partial to fortune telling and is thrilled to be invited to attend the séance. She can be quite chatty, although her husband thinks that she talks too much.