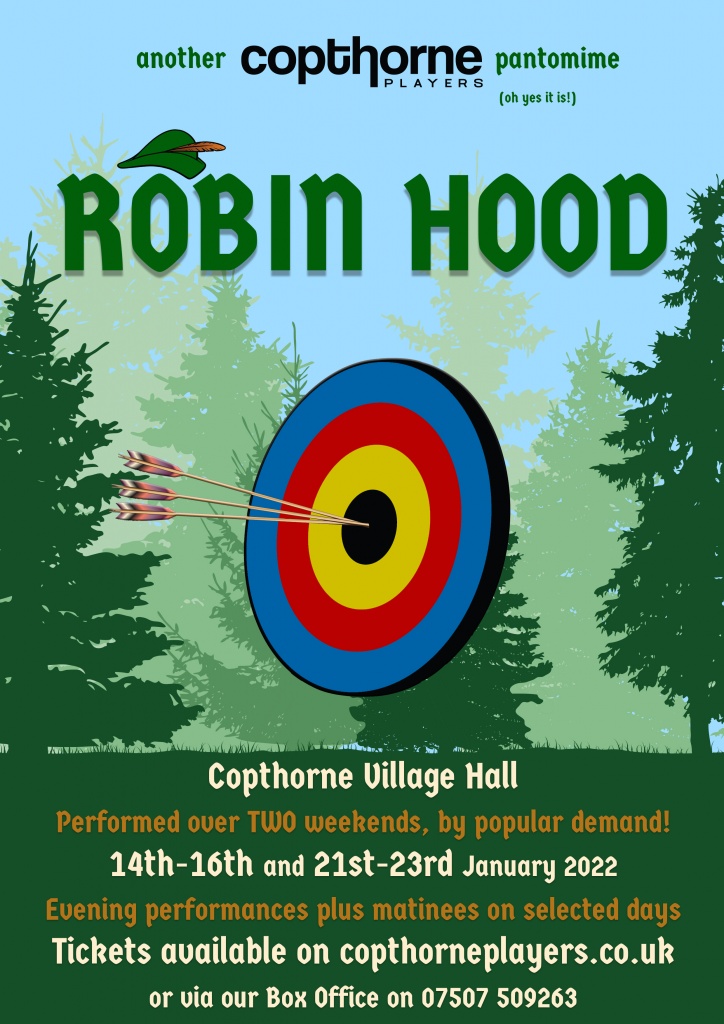 **Tickets are now on sale for our upcoming Pantomime, Robin Hood!**
Corruption in the government, plague in the land – no, we're not talking about today's news, we're talking about twelfth century Nottingham!
The Copthorne Players are thrilled to present this year's pantomime, Robin Hood, delayed from its intended slot last Christmas. Our loyal core of pantomime performers is back together and raring to get going with this classic English tale of fairness, archery competitions, and good old-fashioned thigh-slapping fun!
From his first appearance in ballads recorded in the fifteenth century, Robin Hood has been a firm favourite of English folklore, stealing from the rich and giving to the poor with a witty turn of phrase and a twinkle in his eye. Come and join him with his band of Merry Men as he seeks to overthrow the evil Sheriff of Nottingham and Prince John, never forgetting the fierce and beautiful Maid Marion and her less-than-helpful nanny, Mama Hen.
The Copthorne Players' production of Robin Hood is written by Megan Birch, co-directed by Marcus Kirby and Jon Birch, and features musical direction from Shaz Dudhia and choreography from Bethany Landskroner. Tickets are available here on our website and via our Box Office Booking Line on 07507 509263.